What are you doing today that will impact the next 100 years and live way beyond your time here on earth?
In just a few short years Petros Network missionary church planters report 500,000 new believers in Ethiopia, South Sudan, and Uganda. Success also brings challenges, and today we are faced with a crisis of a shortage of Bibles and discipleship materials, as well as training and educating enough missionary church planters to reach this great harvest.
We have heard the cry….500,000 new believers are left without Bibles and discipleship materials in their own language. Imagine having a love for Jesus, but being unable to learn more about him?

– Petros Network
Petros Network has partnered with Africa's Hope to meet this great need and provide training and discipleship materials written especially for Africa. Our goal is to provide:
Certified Bible Diploma Program in 5 Languages: $250,000 per Language
Through new Bible Schools and training centers Petros Network is launching in 5 regions, we will train and empower missionary church planters through Africa's Hope Discovery Series, — a 2-year college-certified Bible Diploma Program. This translation and print production project includes textbooks and teacher materials for 24 to 38 classes in the 5 different languages found in the Horn of Africa.
Discipleship Materials in 5 Languages: $100,000 USD per Language
The Living the Truth Discipleship Materials are written in an African context and our goal is to translate them into the heart language of the people, the language in which they speak every day. This amazing 7-year discipleship material will walk the growing church through the entire Bible and basic Bible doctrine and strengthen the new converts who are at risk of being different from other religions and belief systems due to their immaturity.
Kindle (Electronic) Theology Library for Leaders: $100 USD per Kindle
Technology has opened many new doors for training in Africa. Ten years ago we could not have imagined a device that would allow us to supply an African pastor or teacher with over 900 electronic books. Today, that possibility is a reality, and we want to be able to bless hundreds of pastors and trainers with Kindles. For some pastors, a Kindle will be the only library they ever own.
Print On Demand System for Production of Materials: $30,000 USD per system
The POD system, developed by Publish4All, is ruggedly designed with the African environment in mind. POD systems are "bookshops in a box" that inexpensively produce quality, perfect-bound books in the short run. With a POD system, we will be able to produce all of our textbooks and materials at a reasonable cost in-country.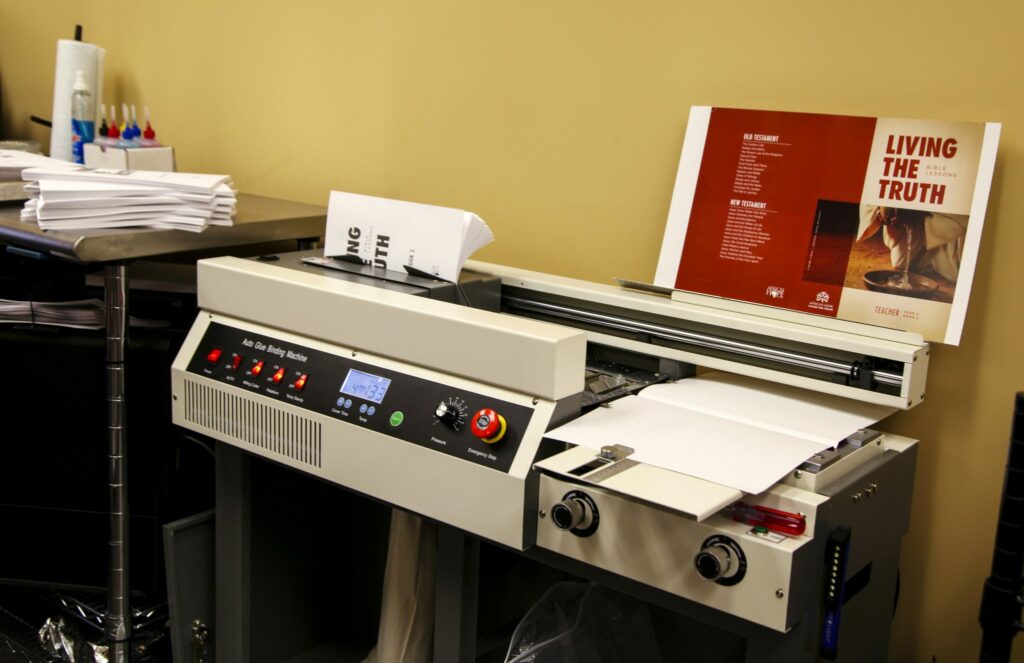 Digitize Learning Materials: $500,000 Production-base launch
We are able to digitize all of the learning and discipleship materials and "hide" them behind a secured app on a smartphone. In the event, that a missionary church planter is captured or persecuted the materials are not available to view without an encrypted password. This will allow our materials to be distributed widely and include digitized versions of the Bible, the Jesus Film, and many other materials available today.
Thousands of untrained and undertrained missionary church planters will benefit from the Discovery Series in their mother tongue. Millions of people will be blessed by the Living The Truth discipleship materials.
We invite you to partner with us to build and empower leaders across the Horn of Africa who has answered the call in these 5 Languages:
AMHARIC
Spoken by: 17 million people
Countries represented: Ethiopia
OROMIFFA
Spoken by: 36 million people
Countries represented: Ethiopia
SOMALI
Spoken by: 18 million people
Countries represented: Djibouti, Eritrea, Ethiopia, Kenya, Somalia
SWAHILI
Spoken by: 50 million people
Countries represented: Kenya, Tanzania, Uganda
ARABIC
Spoken by: 150 million people
Countries represented: Algeria, Chad, Djibouti, Egypt, Eritrea, Libya, Mauritania, Morocco, South Sudan, Sudan, Tunisia, Western Sahara