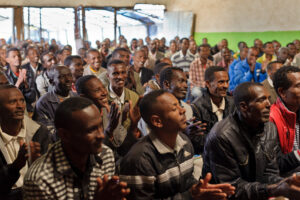 Before a missionary church planter is sent out our team interviews them for their personal story. This is one of our new church planters:
It wasn't that long ago I was a Muslim and highly opposed to Christian missionaries. I was smoking, using bad language to talk about Jesus and even using the pages of the Bible as toilet paper. As I was using the pages this way, I saw a vision of a cross with blood dripping from it and Jesus reached his hand through the blood towards me and said that I would be a missionary of the Gospel. He said I would evangelize and plant churches, whereas at the time I used my energies to burn churches. Today God has placed in my heart a great desire to preach the Good News for those who haven't heard it and make them disciples. Now I have the vision to go a certain tribe that is very cut off from society and lives primitively with no clothes. Please pray that God will release His grace in my life to do His work.</blockquote

You can help send out a missionary:

A full sponsorship is $2950 USD. This sponsors a missionary for 2 years — until the church planter becomes sustainable. You can sponsor a missionary for the full amount, give a partial gift or sign up for a monthly recurring gift with your credit card or bank account. Every gift is appreciated!
SaveSave